On this page you will find information to guide your planning activities for the MHHS Programme.
At the Programme Steering Group (PSG) on 8 June 2023, Change Request 022 (CR022) was approved following Ofgem's approval of Level 1 milestone changes. PSG agreed that version 5.0 of the MHHS Programme Plan would be adopted as the baseline change.
The below Plan on a Page (PoaP) is the Baselined MHHS Implementation Timeline that articulates the delivery stages of the Programme. ​​​​Click on the image below to open an enlarged version.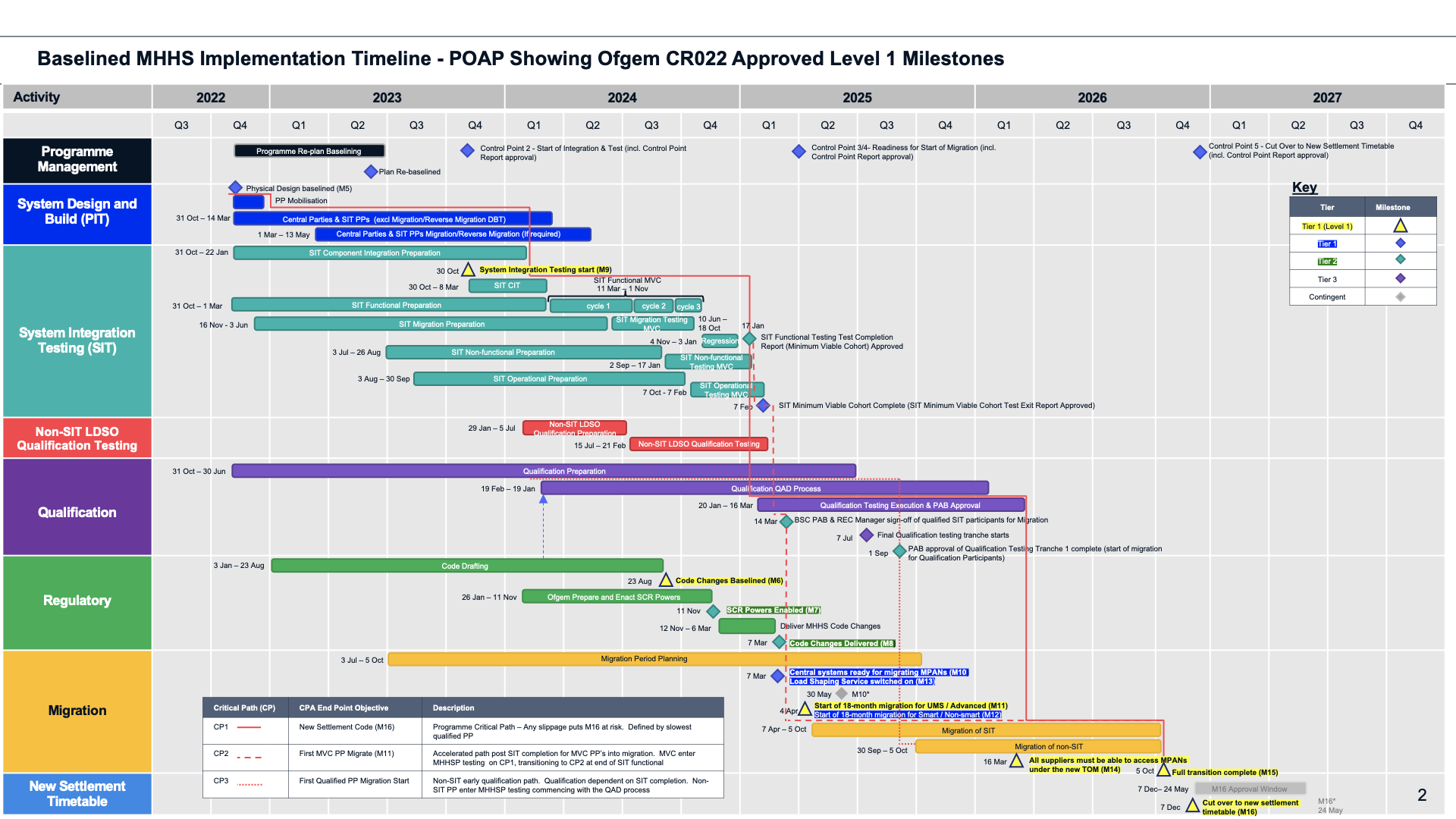 ​​​​​​​
Delivery of the MHHS Programme is phased: there are three defining critical paths to starting migration:
Systems Integration Testing (SIT) Minimum Viable Cohort (MVC), who participate in SIT and qualify via the Qualification Assessment Document (QAD) process to reach the earliest migration start Critical Path 1 (CP1). Other SIT Programme participants can Go-Live between Critical Path 2 (CP2) and Critical Path 3 (CP3).
Participants who do not participate in SIT but reach early migration via Tranche 1 of Qualification (CP3).
Other participants will pursue the Qualification route (in later tranches).
You can find more information on the Baselined Plan, Milestone Register and Implementation Approach on the Programme Plan & Complementary Documents page of this website.
Key information to support your navigation of the Programme
Which deliverables are out for review and what are key dates that I need to be aware of?
The Participant Checklist (previously the Master Consultation Dashboard) is a checklist to keep Programme participants up to date with Programme requests for review and engagement.
You can view the checklist below:
What are the Programme governance meetings that I need to attend and where can I find information on them?
Visit the Events page of this website
Where can I find information on the Critical Path my organisation is on regarding Testing and Qualification responsibilities?
If you are non-SIT participant: view the document below:
Non-Sit Supplier Journey through the MHHS Programme